KITCHEN CUPBOARD DOOR PAINT – A GUIDE TO WHAT'S HOT IN 2O22
Kitchen cupboard design and colour trends, like anything, will change over time. Styles and colours come into fashion, go out of fashion and then make a guest appearances years down the line! This could be because of celebrity influence, influencer influence or brand names succeeding in their latest ad campaigns. Whatever the reason, everyone likes to have an up-to-date designer kitchen to enjoy with the family and friends.
Let's take a look at some trending kitchen design colours in 2022 with examples so that you can make an informed decision when choosing your next kitchen cupboard colours!
WHITE KITCHEN CUPBOARDS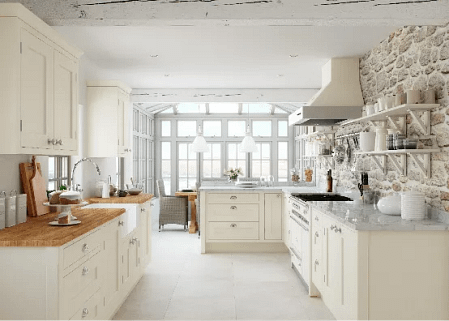 White kitchen cupboards (or cream) will give your kitchen an atmosphere of cleanliness and space. Regardless of kitchen design, white cupboards will lend themselves perfectly to modern, contemporary or classic kitchens which would benefit from a light, airy feel. If you want a kitchen design that is fit for purpose as a backdrop to green plants and interesting or colourful kitchen gadgets then white cupboard doors are the choice for you.
As a side note, a white kitchen is a good choice if you are planning on selling your home too. The 'blank canvass' approach will be appealing to potential buyers.
GREY KITCHEN CUPBOARDS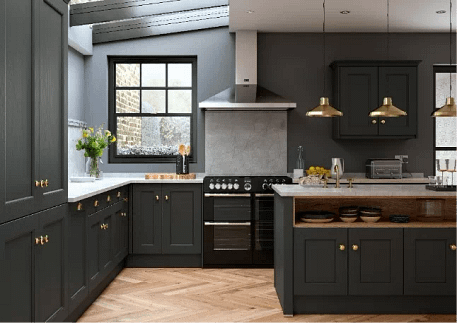 Grey has been a trending colour for a while now and is showing no signs of letting up. With celebrity influencers like Mrs Hinch advocating grey tones, it is little surprise that grey kitchen cupboards have seen a rise in popularity lately.
Grey shades are used in all aspects of kitchens from flooring to cupboards to walls. From our experience we are seeing more dark shades of grey appearing more frequently to give a modern, luxurious feel to kitchens. Shades of beige are also being added to greys which has resulted in the term greige being used.
Grey kitchen cupboards are, of course, a neutral colour and work very well to offset a white kitchen or natural wooden tones.
BLUE KITCHEN CABINETS
From baby blue to deeper, richer tones: blue kitchen cupboard or cabinet doors are seeing an increase in popularity. Vivid colours (as well as some pastel shades) are being used as feature colours for kitchen island cupboards or a selection of kitchen cupboard doors (along just one wall for example) giving a brighter focal point to a kitchen that is otherwise designed in neutral colours like white or grey.
As a richer colour than its neutral counterparts, blue works very well in both matt or high gloss and is adaptable for most styles of kitchens.
PINK KITCHEN CABINETS
Pink has been a popular colour for many years. Whilst it may be an acquired taste for some, when someone has an affinity to pink, they can use it anywhere! From bold, high gloss pink kitchen cupboard to powdery pastel shades: pink kitchen cupboards are a great option to offset other kitchen theme colours and create feature areas with a strong focus.
Pink, in its many shades, is one of the fastest trending colours of kitchen cupboards in 2022
GREEN KITCHEN CUPBOARDS
Natural tones are all the rage at the moment: green, brown, blue: any colour that you might find in nature can be combines for earthiness, vibrancy, brightness or whatever theme is desired.
A deeper or darker green can be beautifully combined with natural or walnut for a traditional feel. Lighter greens can be coupled with pastel blue for a country kitchen approach. Vivid bright greens can look amazing as high gloss kitchen cupboards offset against black, white or grey. Whatever theme is chosen, green is set to become a popular choice for spring and summer of 2022.
SUMMARY
Whilst there are clear favourites for trending kitchen cupboard colours, there are other factors which will also be considered when making this important choice:
If the home being decorated is not being lived in but rather being sold on or rented, more neutral colours will be a better choice
The personality of the client will play a big role in the colour and style of the kitchen and kitchen cupboard colours
…and of course, there will always be those who follow celebrities and designers who want to emulate their idols.
A Class Kitchens work with a variety of suppliers in order to offer a range of styles, colours and finishes so that whatever the kitchen design requirement, we can accommodate. If you would like to speak with us about your next kitchen project, then head over to our contact page HERE or call us on 01234 589136
#kitchencupboard #kitchencupboards #kitchencupboardpainting #paintedkitchencupboards #kitchendecor #kitchendesign #kitchentrends #kitchentrends2022 #kitchentrend
https://ml0l1fq8zagk.i.optimole.com/cb:rD1o~35be/w:auto/h:auto/q:mauto/ig:avif/https://www.aclasskitchensbedford.com/wp-content/uploads/2021/04/LOGO3.png
0
0
Jemma Hough
https://ml0l1fq8zagk.i.optimole.com/cb:rD1o~35be/w:auto/h:auto/q:mauto/ig:avif/https://www.aclasskitchensbedford.com/wp-content/uploads/2021/04/LOGO3.png
Jemma Hough
2022-05-12 11:08:49
2022-05-12 11:08:49
KITCHEN CUPBOARD DOOR PAINT – A GUIDE TO WHAT'S HOT IN 2O22