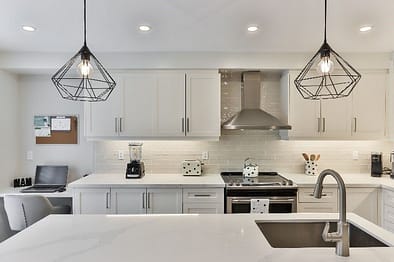 You've settled on a style, chosen your tiling and flooring, and your new kitchen is ready to be installed. But before it is, it's worth spending some time thinking about kitchen lighting and how you can best light up your new space. After all, the kitchen is the heart of the home; kitchens are entertaining spaces, so it's important you get your lighting just right.
At A Class Kitchens, we understand good kitchen lighting can transform your space and put the spotlight on key areas. Below, we've rounded up some modern kitchen lighting ideas to help.
Understand the purpose
Not every nook and cranny of your kitchen needs to be brightly illuminated. When planning lighting for kitchens, it's important to decide where and how you want areas to be lit. Task lighting, for example, should be bright – they're hung in 'working areas' where you prepare, wash, and cook your food.
Mood lighting, on the other hand, can add drama to your kitchen design and give off the right ambience. Feature lighting should also be considered. Those big, bold fittings that make a statement, differentiate spaces, and add a new dimension to your cooking and dining areas.
Play around with different sources and consider using bulbs that can be dimmed. You can set the right lighting to suit your mood, every day.
Highlight areas with unique lighting
No two kitchens are the same – and the way you use lighting in yours might be very different to someone else. If you've got an alcove, for example, you might want to light it up with a bright spotlight to show off your cookbooks or wine rack or keep a more functional space like an open pantry or coat rack low-lit to keep eyes on other parts of the room. Lighting can also be used to create dedicated areas for particular functions, like a cocktail station or breakfast bar. Play around with different ideas, and use a lamp to get a feel for how lighting changes an area of your room before you invest in bulbs and fittings. Trial and error is often required.
Think about shapes
When you're sourcing kitchen LED lights, think about shapes.
Not every light you buy has to be from the same manufacturer and look exactly the same, but choosing fittings that have similar shapes and thicknesses to the rest of your kitchen design can give your space a sophisticated, well-rounded look.
Consider wall lighting
Although most people put their focus on finding kitchen ceiling lighting ideas, it's also worth thinking about how you can use wall lighting to change the look and feel of your kitchen.
Wall lighting can serve as an alternative to ceiling lights and can add visual interest to empty walls. Set wall lights on separate circuits and you can layer wall lighting with overhead lights for different times of the day. Wall lights are ideal for evenings if you want something soft to add ambience. Consider dimmable bulbs and set them up with Alexa or Google Home.
Kitchen lights under cabinets
Kitchen lights under cabinets have become more and more popular in recent years, and it's clear to see why. Not only do they highlight your backslashes and countertops, but they're super practical. They allowing you to use virtually every corner of your kitchen to chop, prepare, and cook, even if you choose low lighting in other parts of your kitchen.
If under-cabinet lights aren't for you but you still want the convenience of a well-lit worktop, there are options. You could think about installing wall lights on swing arms that can be angled to suit your cooking style.
Kitchen island lighting ideas
Good kitchen island lighting can help make your island the 'hub' of the kitchen, which makes sense if it's the space where you entertain and cook. You'll find lots of kitchen island lighting ideas on Pinterest, from simple pendants and spotlights to vintage lighting and bold, modern pieces. Dimmable bulbs will help make your island warm and welcoming for dinner. They create a relaxing space to catch up over a glass of wine once the kids go to bed.
Save energy
Now more than ever, it's important to think about the environment (and your energy bills) when choosing the right kitchen lights for your home.
We recommend incorporating LEDs into your kitchen at different levels to flood your kitchen with light, without breaking the bank. LED bulbs are energy-efficient and last around 50,000 hours.
If you don't want a kitchen that's too bright or clinical, look for warm colour options or even changeable bulbs that can be used to set the right mood. Some people enjoy colour-changing lights and they can have a dramatic effect on your kitchen. Turn them blue over winter and orange at Halloween!
Add a 'showstopper piece'
Finally, don't be afraid to try something different. Add a 'showstopper piece' that really catches people's attention when they walk into your kitchen. It could be a large chandelier hung over your dining table, or an artsy lighting piece that sits above a kitchen island.
Shop around and keep your eyes peeled for something that reflects your personality and style. Don't be afraid to wait until your new kitchen is completed before you commit to a piece. Quality lighting can be expensive so it's worth taking your time.
At A Class Kitchens, we're passionate about helping customers create the kitchen of their dreams. Get in touch and we'll help you design a quality, luxury kitchen that's tailored to your exacting taste and budget. We provide friendly customer service and project managed installation along the way. Give us a call on 01234 589136 today or click here to drop us a message.
#Kitchenlightingideas #Kitchenislandlightingideas #Kitchenceilinglightingideas #Smallkitchenlightingideas #Modernkitchenlightingideas #Lightingforkitchens #Kitchenislandlighting #Kitchenlightsundercabinets #Kitchenislandlights #Kitchenledlights #kichenlights #kitchenlighting #kitcheninspo #kitcheninspiration #kitchenrenovation #homedecor
https://www.aclasskitchensbedford.com/wp-content/uploads/2022/03/kitchen-lighting-ideas-thumbnail-1.webp
910
1304
Jemma Hough
https://ml0l1fq8zagk.i.optimole.com/cb:rD1o~35be/w:auto/h:auto/q:mauto/ig:avif/https://www.aclasskitchensbedford.com/wp-content/uploads/2021/04/LOGO3.png
Jemma Hough
2022-03-23 13:49:21
2022-03-23 13:50:06
Transform your space with these kitchen lighting ideas